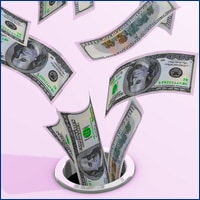 One of the biggest blind spots in business spending is the voice and data bill. Telecom invoices and technology are difficult to understand. Did you know that a study by Aberdeen Group found that 90% of telecom invoices had errors? Many company phone systems are bloated with features and technology that are not really necessary. Here are tips for reducing your telecommunications expenses:
Conduct a Monthly Review
Scour the telecom bills each month for errors, unauthorized changes, and extra taxes. Look for 3rd party calls, collect calls, and sudden increases in the cost of toll-free services. Ensure all of your phone lines are being utilized. If you see special services you can live without, cancel them. Designate one person at your company to do this, and provide them with significant training. Or contact Telecom Professionals – we offer a free audit of your telecom bills.
Check the Contracts
Do you really understand your contracts with your telecom company? Read the entire document to understand any penalties associated with terminating a service. Examine the expiration dates, consequences of letting something expire, and set up a reminder on your calendar 6 months prior to expiration dates. If you see any problems in the contract, or any disparity between the contract and what you are actually getting, contact the company to get it fixed.
Stay Organized
All your disputes with the telecom company should be fully documented. Your security codes should be organized and kept in a single, safe place. "Slamming" means your long distance carrier gets changed without your permission. Prevent this by making sure PIC freeze has been activated.
Make it All Work Together
It's tricky to manage your telecom vendors, technical people, data providers and local exchange carriers. This requires a lot of technical knowledge of current telecommunications systems. If you do not have someone on staff who has experience, consider hiring a company to manage this for you. This will probably save you a lot of money in the long run.
Telecom Professionals is trained at making your entire telecom system work harmoniously, while saving you money. When you start a shared savings agreement with us, we guarantee we will save you money. We analyze how your telecom system could be configured to cost the least amount of money, while providing your company the services and redundancy it needs. We discover billing errors and services not being properly utilized. We can tell you how to take full advantage of underutilized equipment. And we get cut out unnecessary and expensive telecom services.
Telecom Professionals has been building long-term relationships for over a decade. After optimizing your telecom system, we complete the project by handling equipment implementation, re-organizing the billing, and removing unneeded services. This saves you a lot of time. We work with all telecom carriers and companies of all sizes.