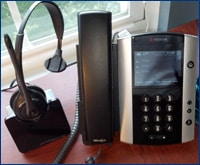 Hosted phone systems are quickly becoming the standard for virtually all types of businesses. Implementing a hosted Voice Over Internet Protocol (VoIP) solution for your telecommunications needs is the ideal way to take advantage of all the latest technologies, without having to invest heavily in the management and support of the system. There are many significant benefits that companies can enjoy through updating to a hosted phone system, including reduced cost, additional features and reduced support requirements.
Reduced Costs
Hosted phone systems can help to reduce the overall telecommunications costs for a company in a variety of ways. The following are a few of the most significant cost savings associated with this communications option:
No Extra Line Fees – Hosted phone systems take advantage of the Voice Over Internet Protocol (VoIP) technology. This means that rather than requiring a separate line for each phone number, all the numbers will travel through the existing internet connections. Companies can have nearly unlimited internal numbers and extensions without having to pay extra fees.
Reduced or Eliminated Support Costs – When the telecommunications equipment is monitored and supported by Telcom Professionals, there is no need to worry about managing the technical support of the system. It is all actively monitored, and any issues will be addressed immediately.
Lower Long Distance Rates – Calling most domestic long distance numbers won't have any additional fees. Even calling internationally is far more affordable than using traditional phone systems.
Advanced Features
Hosted phone systems allow businesses to take advantage of all the latest phone features including call forwarding, web-based system management, voicemail which can be retrieved from any phone or over the internet, advanced conferencing and much more. Some of the most popular features our customers enjoy the most include:
Message or Music on Hold – When putting a customer on hold, it is possible to play a promotional message, or just play them pleasant music so they will be far less likely to hang up.
4 Digit Dialing – Calling to other phones on the system is much faster and easier using simple four digit dialing.
Voice Mail to Email – All voice mail messages can be immediately forwarded to any email inbox as a wave file. This allows for convenient listening, permanent storage of the message and the option to easily forward it to others.
Dual Ring – Configure incoming calls to ring on both the office phone and a cell phone simultaneously.
In addition, as the technologies behind the managed systems continue to advance, the latest telecommunications features will be integrated into the system seamlessly. The vast majority of all phone features are included with hosted phone systems at no extra charge. This is because all the hardware and software is already in place and being managed. Customers can choose to use any or all of the features they will find beneficial for their company.
Managed Support
Perhaps the most attractive benefit of using hosted phone systems is that all the hardware and software is supported by Telecom Professionals. The majority of the hardware is housed securely in our datacenter, and is monitored by advanced software which can identify potential issues before they ever impact the service. Our technical team is staffed 24/7 to respond to any issues quickly, thus minimizing any potential impact. When hardware is required in the customer's datacenter, we will assist with installation, and provide full support and monitoring for the local hardware.
Managed phone systems have rapidly gained popularity in the business community because of the significant advantages and flexibility they provide. We highly recommend them to all our customers, and believe that these systems will continue to become the standard for many years to come. Contact us for more information.