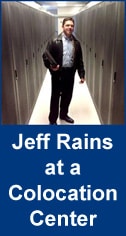 In today's high-tech world, almost all companies need to have a website, offer ecommerce and have access to the power and flexibility of the Internet. When companies attempt to manage all of this themselves, it can be extremely complicated and even cost prohibitive. This is because most companies need to have dedicated connections to the Internet to handle all their traffic, servers and other equipment, as well as the resources needed to support it.
In order to obtain all the benefits at a fraction of the cost, most businesses turn to colocation centers, such as those offered by Telecom Professionals. Colocation centers are a type of data center that offer equipment, space, bandwidth and other resources that are rented out to individual customers. Each center can be run differently, but they typically offer service and support for all the hardware housed within the data center, and some even offer software support.
Benefits of Colocation Centers
From a business point-of-view, there are many benefits to having some or all of a company's technology housed in a colocation center. Analyzing these benefits compared to onsite data centers will help a company decide whether it makes sense to take advantage of Colocation services.
Established Datacenter – When a company gets to the point where they need more than just a few computers to run properly, they will need to either use a colocation center, or build a datacenter of their own. Datacenters are extremely expensive to build because of their very specific requirements. Using a Colocation center allows a company to locate their equipment in an established datacenter for a small fraction of what it would cost to build one.
Cost Benefits – Computer equipment needs to be kept at the right temperature, and have access to fully redundant internet and power supplies. This is, of course, in addition to having high quality computer storage equipment and replacement parts on hand to fix problems quickly. Once a data center is completed, it can cost millions of dollars per year to maintain. By taking advantage of a colocation center, you only pay for what you need and it becomes much more affordable.
Monitoring – Most colocation centers offer hardware monitoring services, so problems can be detected immediately. This often means that hardware that is going bad can be replaced before there is an impact on the customer. 24/7 monitoring is difficult and expensive for an individual company, but when shared with many others in a colocation center, it is very affordable.
Physical Security – Maintaining the physical security of a datacenter is a 24/7 job, which many companies don't have the budget for. When working with a colocation center, however, that service is included in the monthly price of housing the hardware.
When using a colocation center, it is typically going to be strategically located away from the company's other facilities. This means you will be relying on the staff of the colocation center to perform upgrades, maintenance and other activities on the hardware. This could be seen as a benefit as well; however, some companies prefer having hands-on access to their equipment. Finding the right colocation center with a provider who can perform service quickly and professionally is extremely important for any company looking to use this service.
Overall, the vast majority of small- to medium-sized businesses will find that a colocation center meets all their IT needs, with very few problems. It is important to take the time to find a quality, well-established colocation center to work with so everything goes smoothly. At Telecom Professionals, we offer colocation services at a very reasonable price. Contact us for a quote.