Detroit Internet Exchange
What Is An Internet Exchange?
The Detroit Internet Exchange (DET-IX) is a regional Internet Exchange Point (IXP) that was launched in 2015. The Internet exchange point (IXP) is where networks come together to peer or exchange traffic.
While they allow network operators to exchange traffic with other network operators, an exchange point will not sell you a complete Internet connectivity. They are, instead, one of the building blocks around which the Internet is built. When connecting to a major peering hub it greatly reduces traffic a provider must purchase from an upstream provider. The best part is that membership is free!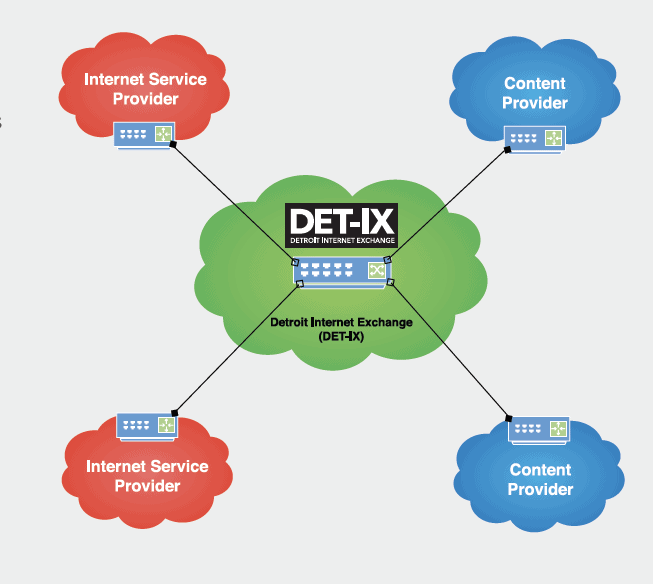 Who Connects To Them?
Any network that wants to peer with other networks can connect to an exchange point. Traditionally, this meant Internet service providers (ISPs) but with the growing need for connections to alternative providers like content and advertising, companies are connecting to exchanges. These companies are peering with ISPs to get their content to their customer base. Contact us to schedule a meeting or a conference call to learn how the Detroit Internet Exchange could benefit your business. 
Benefits 
Bilateral Peering 
Traffic exchanged directly between two members of the DET-IX over the shared exchange fabric
Multilateral Peering 
Traffic exchanged directly between members wishing to peer directly with any carrier
Purchase Upstream 
An added benefit of the exchange is the ability to purchase upstream from the on-net carriers present in the colocation facility
Peering Participants

Business Solutions / Detroit Internet Exchange (DET-IX)
Telecom Professionals Provides:
Network Fiber
Up to 100 Gbps Circuits (99.99% SLA)
MEF standards to deliver Carrier Class Metro Ethernet solutions
Designed to deliver ultra-low latency connectivity
Custom diverse entrance builds available
Dark Fiber Solutions
Fixed Wireless
Up to 10 Gbps speeds (99.99% SLA)
128-bit AES Encrypted data transport
Primary and backup connectivity for Dedicated Internet & Ethernet Services
Emergency/Short term deployments
Campus Wireless Solutions
Temporary Fixed Wireless Solutions (Events / Construction Site)
DATA CENTERS
All Data Centers meet SSAE-18 SOC2 Type II / SOC3, HIPAA & PCI-DSS Compliancy
2(N+1) Power & Cooling Configuration Available
Data Center Power (100% SLA)
Up to 30 kW Available per Rack
Dedicated Substation
Carrier Neutral Facilities
Multiple Fiber Entrances
Cabinet Spaces, Cages & Custom Suites Available