WAN Aggregators support multiple internet connections to improve and protect your business internet service.
WAN Aggregators provide a Comprehensive plug-n-play solution delivering a highest-quality Internet experience, as well as providing a fast, reliable aggregate connection by load balancing multiple internet connections for a fraction of the cost of traditional systems. The advantages Wan Aggregators provide are numerous and we have deployed this solution across the country with great success. What's more, we locate the best internet connects for your unique business location, and take care of the ordering and installation.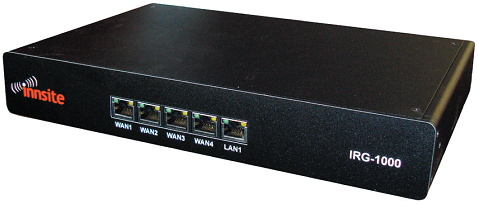 Review the following questions and let us know if these are areas that we can help your business:
What is load balancing?
Load balancing is the process of splitting traffic between two or more connections to avoid complete saturation of any given supply source.
What is failover?
Failover is the process of routing traffic away from a link or connection, in the event of failure.
What is policy-based routing?
Policy-based routing is the practice of classifying specific kinds of traffic, and routing it differently than the rest of the traffic on the network. For example, if you have a bandwidth heavy application that you only want to use one internet connection, the IRG is capable of being programmed to only send the traffic out of one internet connection or only use the low bandwidth link in case of a failure on the other.
How do WAN Aggregators work?
The IRG accomplishes both load balancing and failover at the same time, based on sessions. It works by deciding which internet link to use when a new session is established (based on programmed variables) and how it is weighted in essence, load balancing. If one Internet link should fail, it automatically starts to send all sessions out of the backup link, providing failover at the same time: All available links are simultaneously active.
What is Quality of Service (QoS)?
QoS is the process of filtering out and assigning priority to specific types of traffic, based on their source, destination, or the traffic type (voice calls, video calls, general web traffic, etc.).
Why do I need more than one ISP?
Connection redundancy can save you thousands of dollars in potential lost productivity and revenue in the event that your primary ISP goes down, as well as lost credibility with your clients and vendors: Failover capability – coupled with redundant resources – assures seamless continuity and an uninterrupted Internet experience for staff and client users, alike.
[button color="red" url="https://telecomprofessionals.us/startsaving/"]Request Additional Information[/button]