NOW - Primary / Back-Up Internet Is Available Anywhere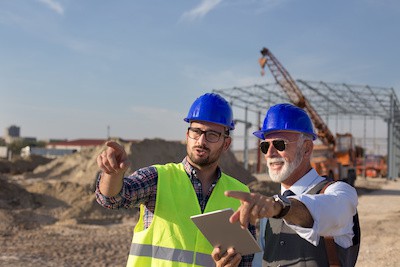 Satellite Internet = Internet Anywhere
At Telecom Professionals, we are empowering businesses by delivering Internet anywhere in the world. Our latest product to facilitate this goal is Viasat Satellite Internet. With Viasat, we can deliver fast internet to almost any location in 3-5 business days! Viasat has been tested successfully with most business-critical services such as Voice-over-IP (VoIP), point-of-sale transactions, cloud-based storage and collaboration, email, file transfers, or IoT connectivity, and more!
Whether you run a multi-location business, warehouse, medical office, restaurant, national retail chain, or any other business that needs primary or back-up internet, you now have access to broadband connectivity for all of your operations. Viasat Satellite Internet is the first of its kind, providing broadband speeds up to 100 Mbps in select areas.
Who Uses Satellite Internet?
Here are some real-life examples:
Back-Up / Redundant Internet
A well-known retailer uses Viasat's Business Internet to process credit card transactions across multiple sites nationwide. A Fortune 500 company specializing in home furnishings uses this service to provide customers access to their app for in-store shopping support.
Smart Farming
One of America's largest livestock farmers relies on Viasat to send daily reports from individual farms back to HQ on stock quality and movement. Several other agribusinesses use Viasat's services to stay connected while they harvest untapped farmland.
Construction
Several construction companies no longer wait weeks or months for the Internet to be delivered to construction trailers. Once they place their call to Telecom Professionals, they are online and working within just 3-5 business days using Viasat Satellite Internet.
Viasat Satellite Internet Works Differently Than Satellite TV
While satellite TV is a one-way, single beam broadcast service, Viasat is made up of hundreds of high-speed bi-directional beams offering more reliability and bandwidth.
Viasat's beams are bi-directional, and when it rains, Viasat dynamically adjusts the signal strength and waveforms to mitigate the impact of the storm. With a typical rainfall, you will not see any degradation in speed or performance. With very heavy rain and thick dark clouds, you may see speeds reduced, but weather rarely causes an outage. When the storm passes, the system will recover automatically.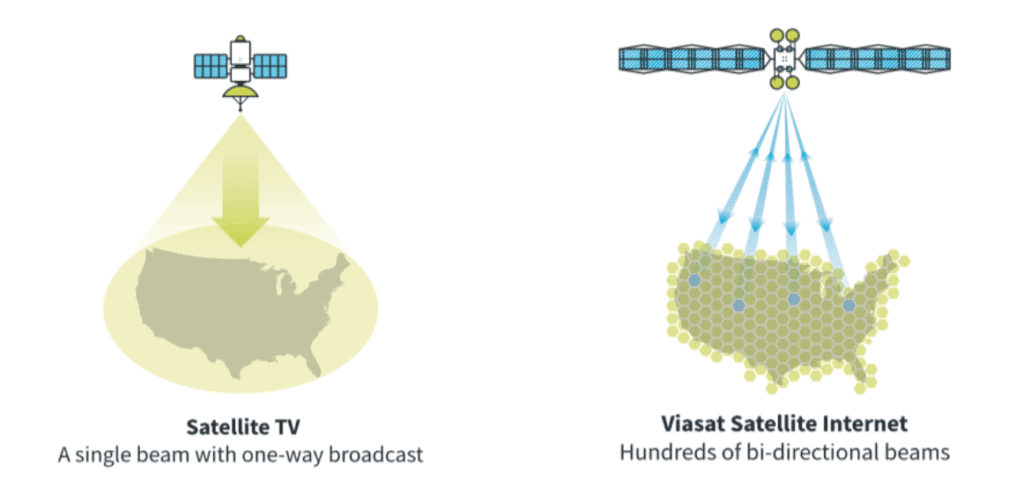 It is very rare for a complete interruption of service. Viasat proactively monitors weather nationwide and dynamically adjusts the signal strength and waveforms to mitigate the impact of a storm. This is made possible with proprietary technology embedded in their satellite network that dynamically transfers service to different access nodes as needed.
With over 30 years of experience designing and building satellite networks, Viasat is uniquely positioned to build a high-speed internet service via satellite that works, even in the most challenging conditions.
For more information on getting high-speed Satellite Internet at your business, click here to visit our website.
Satellite Compared With Fiber & Cable
Rapid Deployment: Fiber Optic Internet services require a significant investment of time and capital to deploy, as they are installed above and below ground, often requiring special permits before the installation process can even begin.
Low Impact Installation: The installation of the infrastructure for Satellite Internet services is relatively simple when compared to what is involved with wired services. When a business places an order for fixed wireless broadband service, the service provider installs a small antenna using non-penetrating tripods on the roof of the company's building. From the roof, Cat5/6 or fiber is connected to any business in the building via an Ethernet connection dropped at the customer's network location. This eliminates the need to wait months or even years to take advantage of Internet connections.
Protecting Our Network and Yours
At the core of Viasat's security experience is protecting live networks to deliver high-quality, uninterrupted connectivity. As a worldwide Satellite Internet Service Provider, they've been securing their own operational networks for years, preventing millions of attacks weekly from reaching subscribers and automatically mitigating against Distributed Denial of Service (DDoS) attacks. Viasat has also accumulated petabytes of proprietary cyber threat intelligence, and as a longtime defense contractor, they have insight into some of the most sophisticated, well-funded attacks. The Viasat team has a unique view of the threat landscape and is dedicated to providing you with comprehensive and efficient cybersecurity.
All Business Internet Plans Include:
Fast Installations – Typically just 3 to 5 business days.
Priority Connection – Business customer data is preferred on our network.
Equipment Lease – All the hardware you need to connect to our service is included in the monthly cost.
Persistent IP Addresses – Three persistent IP addresses provided with every plan.
Add-Ons and Extras:
Managed Wi-Fi – Customer Wi-Fi without the hassle, 24/7 network management, customizable splash pages, and more.
Quality Checks
When the technician completes the installation, they will run a provisioning script to ensure all equipment and cabling has been installed correctly, take pictures of the installation to have on file, and video chat with a supervisor for a live Quality Audit.
Once installation is completed, the technician will ask the customer to sign off on the installation and will leave the site clear of any unused material.
Customers may be contacted afterward for a customer survey. We appreciate your comments.